A good pizza with reasonable calories can be hard to find. There are plenty of thin crust pizzas with around 220 calories per slice. Or you can make your own with a tortilla or similar crust for less. Not always very satisfying through. Dr Oetker Yes It's Pizza recently showed up in my local grocery store. They are around $5 and come in beetroot, cauliflower or spinach crusts. Each with a different topping.
Ingredients in Dr Oetker Yes It's Pizza – Cauliflower Crust
CRUST: Enriched wheat flour, cauliflower, canola oil, yeast, modified corn starch, sugar, water, salt
SAUCE: Tomato sauce (crushed tomatoes, water), tomato puree, water, sugar, salt, modified corn starch, thyme, spices, garlic powder
TOPPINGS: seasoned roasted chicken ((chicken, salt, chicken stock, dextrose), canola oil, parsley, spices), roasted yellow peppers, curry cream sauce (sour cream (cream, bacterial cultures), pineapples (pineapples, sugar, water, citric acid), soy sauce (water, soy, slat, wheat flower), sugar, modified corn starch, salt, curry powder, spices)
CHEESE: Mozzarella and edam cheese (milk, salt, bacterial cultures, microbial enzyme, calcium chloride)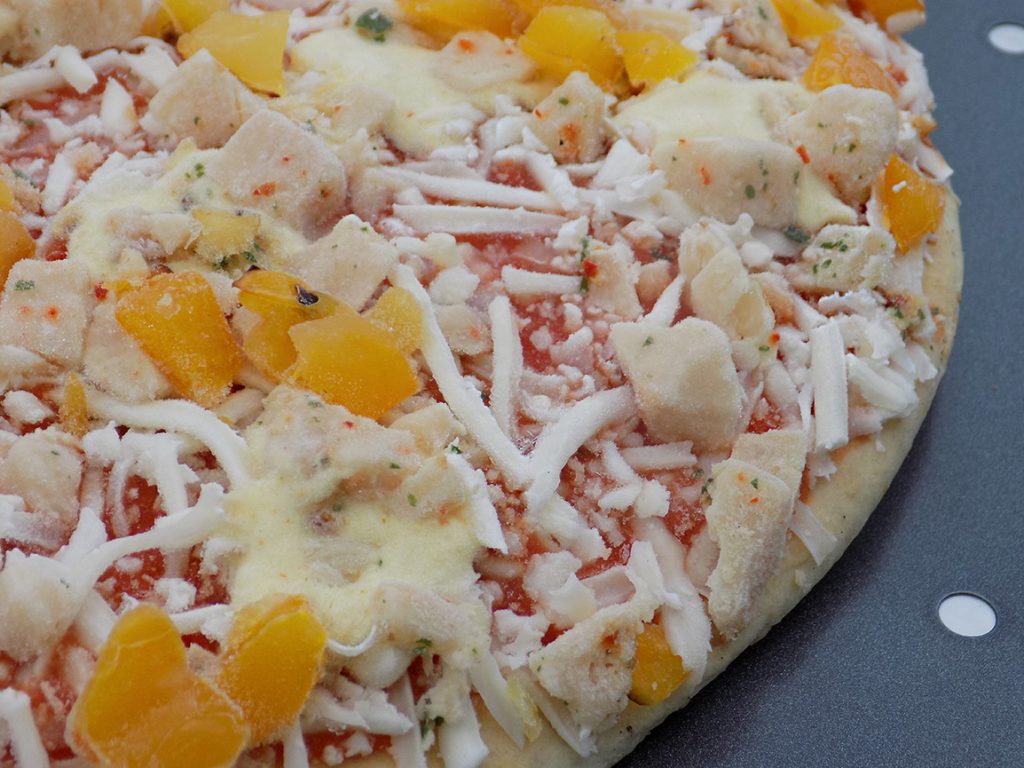 They are surprisingly generous with the toppings. There are noticeable pieces of chicken and lots of peppers. Some low calorie pizzas can be very sparse on the toppings. The base is thicker than many thin crust pizzas but has a dip under it so is not as thick as it first appears. The cream sauce blobs are a nice addition too. The crusts are vegetables mixed with flour so a nice compromise on flavour, texture and lowering calories.
Dr Oetker Yes It's Pizza – Cauliflower Crust Nutritional Data

Serving size: 1/4 pizza (86g)
Calories 170
Fat 6g
Sodium 350mg
Carbohydrates 19g
Fibre 2g
Protein 8g
Let's face it, very few of us eat just 1/4 slice of a thin pizza. The whole pizza comes to 680 calories which is very reasonable but that will also get you 60% of your sodium for the day.
Dr Oetker Yes It's Pizza – Cauliflower Crust Review
It probably could have done with a minute or two longer than the box recommended. The crust was still a little chewy. You don't immediately taste cauliflower in the crust but it is there in the aftertaste. Dr Oetker Cauliflower Pizza is pretty generous in the toppings. The sauce helps mask some of the cauliflower taste too.
The chicken appears to be actual pieces of chicken and not that weird mushy reconstructed chicken you get on some pizzas and frozen meals. There is plenty of yellow pepper pieces on the pizza and blobs of creamy sauce in addition to the tomato sauce covering the base. Two slices made a decent lunch for 340 calories. Each slice is 45% vegetables so while not "healthy" with fat and sodium, is a better option for pizza than most.
If the taste of cauliflower doesn't bother you, Dr Oetker Yes It's Pizza Cauliflower Pizza is a decent alternative to regular pizzas. Especially if you are a volume eater and not happy with just one slice.